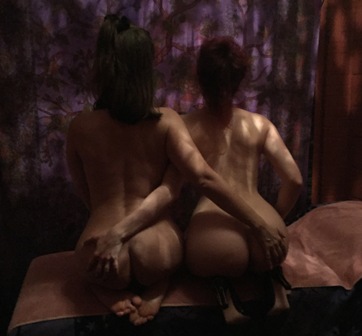 The No Rush Naturist Spa
The Workshop Naturist Spa and massage centre caters for genuine naturists, or nudists as some like to be called. We know how difficult it is to find a venue that will accept naturists. Please note, it is not compulsory to be naked at The Workshop. We also welcome non naturists.
Here at the Workshop we have a no rush policy, so there are limited bookings available. Please book early to avoid disappointment. We believe in peace and calm when you come over for your massage treatment and there is nothing worse than going somewhere that is too busy
Included in the price of your massage will be use of the Sauna and the hot tub, the sauna is a large sauna so you can easily lie down in it, the hot tub will sit four people.
 If you wish to come over and just use the Sauna and Hot Tub then there will be a nominal fee to cover running costs, towels and shower are included.
more

Spa Bookings
Call Antonio on 07973 616 706 one hour before to reserve pre 11AM Spa booking
Massage bookings from 10:30AM till 7:00PM
Antonio is available for a one on one massage, most days. Or why not try a double massage with Antonio and one of the masseuses.
Our three way hands on massage sessions are becoming very popular (The Tuition massage) come and indulge in an hour of pure bliss with Antonio and one of the masseuses.