Naturist Massage Services seem to be everywhere nowadays, so..
What exactly is a Naturist Massage?
A naturist massage is basically a full body massage. The only difference is that it's practiced in a nude setting / environment. Both the receiver and the therapist are naked during the massage.
We have all experienced being naked at some point in our lives and we all react differently. If you've never had a nude massage, then please call and book a session with us, you might surprise yourself.
If you are a naturist then you will understand the freedom and liberation of being nude.
One of the benefits of a this type of massage is that, as the name implies, the flow of the masseur or masseuse is not broken by underwear. This lets the receiver enjoy the long flowing strokes, it does not break the massage session, you will enjoy the massage more and it will a more relaxed experience and the therapist does not have to keep stopping to tuck towelling into underwear, so as not to get the underwear oily.
This treatment will allow long flowing strokes that will cover all you body. It won't be long before you drift into utter bliss.
Massage Therapies at the Spa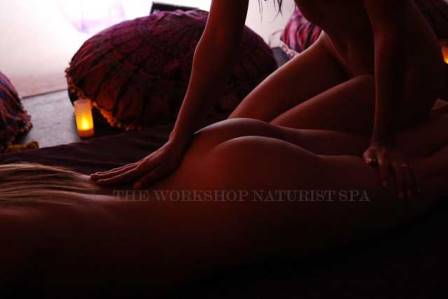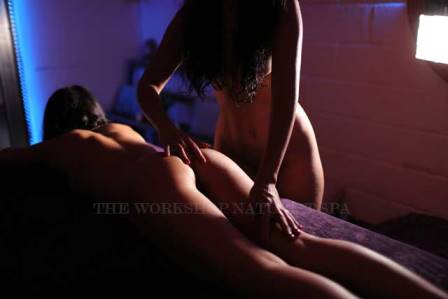 Therapy Rooms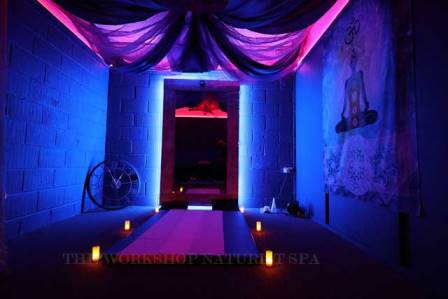 At present there are five therapy rooms, two are for traditional massage on hydraulic massage tables and three rooms are for tantric massage therapy.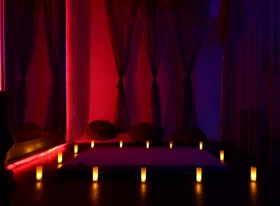 There is a walk in shower, and a chill out, relaxation area.
Hot drinks and refreshments are available.
Wi-Fi is available here at our naturist spa, if you want to use a laptop or mobile phone to access the internet, please ask
Whether you want a relaxing, deep tissue, aromatherapy or tantric massage, there is a no rush policy at our Spa
We welcome couples and single males and females.
Covid-19 Safety at the workshop spa
Hi all and welcome back to The Workshop website. Hope you have all kept well. I personally took up vegetable growing and it has been a wonderful experience. My photography has improved and also honed up my skills on keeping the website up to date, (still in the process, so please don't start picking on the faults), none of these would have been possible if there was no lockdown. There never seemed to be enough time before. So always look at the positives in life. With every change, every distraction, every mistake, we learn something new. I know it's not the same for everyone, there has been a great deal of sadness too and lives of loved ones lost. From all here at the workshop, our heart goes out to those who have suffered. There are no words that can make up for the sadness and loss.
As the months went by the phone kept ringing, with clients asking to book, I know a lot of you phoned to ask when we thought we might open, as most of the directives have been as clear as mud, but it made me smile that there were some who I thought must be living on another planet. (in the nicest possible way)
The whole world had practically shut down and they seemed totally oblivious to it. It's wonderful that we are all so different, it would be boring otherwise. We are following all government guidelines to the safety of our clients and therapists, with covid-19 rules and regulations.
We have also installed a MVHR system throughout the building to expel stale air and bring in 100% fresh air, as per the government stating that these are fully compliant with the covid virus, unlike air conditioning systems which distribute the same air and are not recommended to be used.
I am worried about getting aroused, will this be a problem?
Sometimes men might get an erection during a massage. Touching parts of the body can activate the parasympathetic nervous system, (the parasympathetic nervous system is part of the autonomic nervous system, the other being the sympathetic nervous system) this can result in the client...
Customer Reviews
Hi Antonio
Don't normally bother to do reviews but just felt I had to write to say thank you to you and the team. I came across the Workshop whilst looking for naturist holidays and am so glad I did. From the moment I arrived trying to park and you greeted me to the moment I left I have never felt so welcomed and looked after. The spa is a credit to you. Very clean and modern. Fantastic. Jessica greeted me with her warm smile and settled me in. An amazing relaxing and therapeutic massage. Perfect!! Getting changed I met Vivienne who was also lovely and made me feel part of the family. I promised her I will come back for another massage with her so see you soon.
Regards
R