About our Spa in Hertfordshire
Our Sauna and Jacuzzi are free to use if you book a massage. Otherwise the use of our facilities will be 20 Pounds if you don't have a massage. We also have a membership scheme.
A yearly membership is 100 Pounds and you get free use of the sauna hot tub and chill out area. Also with the membership
If you decide to have a massage there is also a £5 discount on our 1/2 hourly, 3/4 hourly massages and £10 on our 1 hourly tantric or four handed or the tuition massages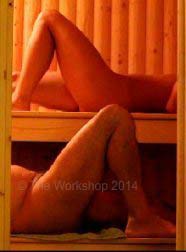 As our regular clients know, we have a no rush policy here at the Workshop Spa in Royston

To compliment the sauna and Jacuzzi, we have a large projection system on which you can watch short videos that have been compiled here at the workshop and you will get a chance to see some of Antonio's photos on the big screen.
The Spa will be open to members and non members 7days a week.
There will be free entry and use of the chill out area, sauna and hot tub with every massage.
NOTE: Massage bookings in the week start at 11AM till 7:00PM.
And from 12:00PM at the weekend.
You can call to book you massage from 9:00AM
The Massage Rooms

Our full body massage therapy rooms have hydraulic massage couches. These make it very easy to lay on and have back rests for maximum support. The three tantric rooms have floor mats
The Naturist Spa Opening Hours
We are open Monday to Sunday. Bookings are taken on the day.
The evening times are for the last appointment, not the time we close.
Monday

11:00 AM - 7:

00 PM

Tuesday

11:00 AM - 7:

00 PM

Wednesday

11:00 AM - 7:

00 PM

Thursday

11:00 AM - 7:00

PM

Friday

11:00 AM - 7:00

PM

Saturday - Sunday

12:00 PM - 6:

00 PM
How to get to the workshop
We are based in Royston, Hertfordshire. Or Herts as Hertfordshire is sometimes abbreviated to
Just off the A505
The A505 road crosses the A1 road at Junction 9
and we are
between Tesco's and Royston railway station.
Parking is available on our unit.
The train journey from London Kings Cross is between 40 minutes travel and we are literally a few hundred yards from Royston Station
The London Train travels through, Finsbury Park, Potters Bar, Hatfield, Welwyn Garden City, Welwyn North,
Knebworth, Stevenage, Letchworth Garden City, Baldock, Ashwell & Morden.
The train journey from Cambridge takes about 15 minutes
Stevenage is just off junction 7 & 8 of the A1 and is 20 minutes travel
Baldock about 10 minutes
St Albans 35 minutes
Hertford, Ware 10-15 minutes
The other way we have Biggleswade, Newmarket, Cambridge,
The A 10 goes through Royston and we are a few minutes from the A10