We offer a nude four handed massage session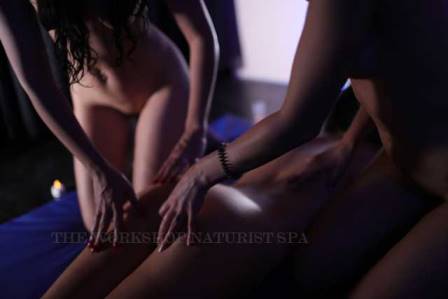 This session is available from either two female therapists or a male and female therapist. The male therapist is Antonio, and the female therapists will be whoever is on that day please call on the day to see which female therapists are working.
The session is performed on a comfortable hydraulic massage table for full body massage, or in one of our three tantric rooms for the tantric Massage. Scented or non-scented top grade cocnut oil is used, if you have a preference please tell the masseuses/masseur.
You can have a half hour massage session, three quarters of an hour or an hour for the full body massage or from three quarters of of an hour to two hours for the tantric.
Naturist Spa Review
Thank you, thank you for the most wonderful day!
I can scarcely believe how good I feel.The kindness, empathy, sense of playfulness and naturalness I enjoyed with you three made me feel like a friend. I will return and soon I hope. V x