Do couples have enough time for each other in today's hectic modern world?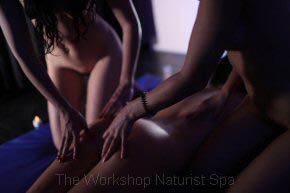 Are we too busy rushing around, making appointments, meeting deadlines, looking after the children/animals/parents. This makes us become over-stressed and we divert our attention everywhere but onto each other. Antonio's naturist massage in Royston offers a diversion for couples from the usual stresses and strains of life.
Come to us here at The Workshop Naturist Spa and enjoy a much needed massage for couples from a male and female therapist, or two female masseuses. The Spa is in an industrial building minutes from the A505. Here you will both be welcomed at the door and taken into the massage room. Once there, you can both get undressed and you can venture out to the showers completely naked if you wish. (You have the option of being massaged together or have separate rooms)
The Sauna is available to be used before and after the massage. The Jacuzzi can only be used before your sensual massage session.
After enjoying the Sauna and Jacuzzi you will be ready for a full body nude massage. To start your naked massages you will be asked to lie face down on the massage tables. When you are ready our masseur and masseuse will enter your room, both will be naked and will start to rub soothing, calming oils into your naked bodies, then just feel your worries and tension melt away as you are expertly massaged from top to toe.
Revel in the delightful sensual touch as the masseur's and masseuse's hands help you unwind and feel a sense of pleasure wash over you. Our masseur will usually start the massage on the lady, and the masseuse on the gentleman. We are happy to swap over half way through if that is your preference/you decide which one wants the male masseur and which one wants the female masseuse
Hi Antonio
Following our brief email exchange below the other week I have finally had an opportunity to visit your new premises in Royston, today at 12.45. I just wanted to congratulate you on a fantastic place. It has a really nice feel to it - the lighting that comes on as you walk into the corridor and shower, immaculately presented, gives it a really classy feel and having a proper shower too, it must have been a lot of hard work but it's very impressive and relaxing.
I have to say too what a lovely person Maria is, not only very beautiful but a genuinely friendly and chatty person, a real pleasure to spend time with and a very relaxing massage - a real credit to you...